The Birthing Center of New York
A free standing facility
for low risk expecting mothers

The Birthing Center of New York, located in Bay Ridge, Brooklyn. It is a premiere, private free standing birthing facility in New York.
At The Birthing Center of New York, you will receive professional care in a luxurious, soothing family-centric environment throughout your pregnancy. We cater to your needs for a natural birthing experience. Our midwives are experienced, caring and committed to your care. Our facility is overseen by a board certified OBGYN. We strive to ensure the best outcomes for you and your baby – SAFETY is our top priority!
Some hospitals title their obstetrical units "birthing centers" but these are not true birthing centers and cannot offer the same support for natural birthing that our freestanding facility can.
The Birthing Center of New York provides prenatal, intrapartum, and postpartum care. Our midwives and doctors can provide annual exams, family planning, and BRCA genetic testing (assesses the genetic risk for breast, ovarian, and colon cancer). Complete women's health care is provided by New Life Wellness (www.newlifeobgyn.com) whose board certified OBGYN oversees our midwives.
Who Can Deliver at The Birthing Center of NY?
"Any woman in good health, considered a low pregnancy risk and plans to have an un-medicated labor is a candidate for natural childbirth in our center." Click here to find out more

The Birthing Center of NY Amenities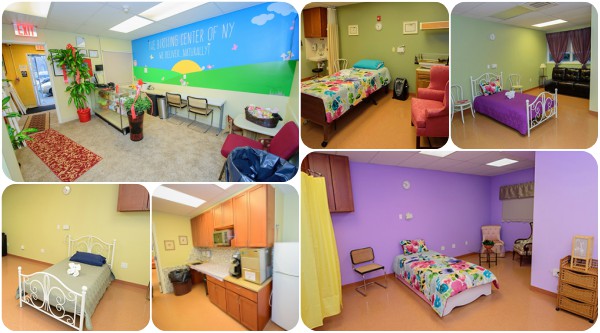 The Birthing Center of New York – We Delivery Naturally, The Way Nature Intended.
What to expect at our Birthing Center

Yes, we give excellent care!
It is so important that you and your partner understand that no matter who or where you deliver, a birthing center or a hospital, no one can guarantee or predict what can or cannot happen to you or your child during the labor and delivery experience. We are prepared for contingencies by having an agreement with an ambulance company and ambulance parking in the front of our center – and if we have enough time we notify them when we admit a patient, so they can be on standby until you are home safely.
We review your prenatal records to help identify if you have any underlying problems or possible complications. You may have a midwife or your obgyn (provided they credentialed with us first) attending your delivery.
We have had 100% success rate so far. Birth is a journey that begins before conception – plan, prepare, anticipate, practice, collaborate and cooperate to have a healthy baby and mommy at the end of the journey.  We are honored to help you birth your future!
Educational Classes


Our classes are given by Nurse Jackie Chapman RN, a lactation consultant and childbirth specialist with over 40 years experience. Nurse Jackie believes you need to know your body during your pregnancy, labor and birth. Not knowing what to expect is the number 1 fear for mothers to be. Nurse Jackie will help you learn what to expect, how to manage your labor and delivery & take care of your new born. Schedule your child birth classes today. We offer classes in Breastfeeding, Baby Care and Childbirth.
Labor and Birth
You will have the continuous support of your Midwife and a Doula trained Birth Assistant.
You may invite anyone else you wish to support you in your birth. You may eat, drink and move about freely in labor and may birth in any position that feels right to you.
Though it is rarely necessary, all staff are trained to provide emergency medicine and support with the same medications and procedures readily available at other care facilities.
Complications During Pregnancy
Safety for mother and baby is our primary goal. If during your prenatal care or during labor, it is determined that a hospital birth would be safest option for you, we have an ambulance on site to quickly take you to the hospital. We review each clients risks regularly during prenatal care and labor. Any risks identified at that time, your midwife and you will discuss the recommendations to deliver in a hospital.
Do I need a Midwife or Doula?
The Birthing Center of NY has nurses and midwives on call for your delivery. You are free to choose your own midwife provided they are credentialed (approved) to deliver in our center. This approval process should begin as soon as you decide to delivery with us and wish your own midwife.
You can choose your own Doula if you wish someone to support you during your pregnancy, labor & birth. You can review the Doulas we work with to determine if you wish to work with them.
Will you honor my cultural / religious requests?
At The Birthing Center of NY, we will respect your traditional, religious and cultural needs provided they do not jeopardize the safety of the baby & mother are unsanitary or violate any state/local laws.
We treat our clients with dignity and respect. We pride ourselves in knowing and understanding many different cultures, religions, traditions, practices and rituals and are open to learning yours.
Some examples of religious requests and traditions from various cultures:
The Caribbeans request immediately after the newborn birth you pinch the newborn nose and cheeks to shape the babies nose and give them dimples.
The Muslims will remove their shoes and get on their knees or stand face west and pray to ward off all evil spirits.
The Chinese like to drink room temperature warm or hot water and have special meals prepared they believe will give them strength and energy.
The Orthodox Jewish wants a divider between the husband and the delivering mother so he does not see the delivery. Yet he is there supporting and is able to hear what is going on. He reads the Torah and prays (it's disrespectful for another women to touch his hands). During the Sabbath they need extra assistance in their everyday life activities.
The Hispanics sometimes wear a string or rosary with a black fist around the waist to ward off bad spirits, it must not be taken from them.
Antepartum Care
Antepartum services are provided by New Life Medical Esthetics, Wellness and OB/GYN – www.newlifeobgyn.com
3 convenient locations: Chinatown, Sunset Park, and Bay Ridge Brooklyn.
Sunset Park – 630 59 st, Brooklyn, NY 718-567-0730
Bay Ridge – 6700-02 3rd ave 718-748-7448
Manhattan – 128 Mott Street, NY, NY 212-219-2723
Postpartum Care
Snuggle in bed with your newborn and partner. Enjoy a meal and some rest.
Both you and your baby will receive comprehensive postpartum exams and will return to your home to continue relaxing after you are both stable and ready (usually four to five hours after birth).
Birthing Center Safety

In our society we have been taught that a hospital is the only safe choice for a birth place. Statistics however tell a different story. Birth carries inherent risks just as driving does. Just as you wear a seat belt for safety in the car, you want a good practitioner for safety in birth. A midwife can be likened to a lifeguard at a swimming pool.
Just as you would not like the lifeguard to dive in the pool and drag you around when you are just enjoying your swimming, many do not want their birth practitioner to actively "manage" their birth. A midwife supports you in your desire to birth "your way" and stands ready to assist you if there is trouble. Birth is a natural function of the human body and holds the potential of being one of the most monumental experiences of your life.
Follow up visits
We will see you at two days after birth for newborn exams and screening. At two weeks and six weeks after your birth for postpartum exams.
Financing and Insurance
We accept these insurances (click here for insurances accepted)